A beautiful Californian wedding in Tustin...
Posted on
Hey peeps,
I am so pleased to share this beautiful wedding with you. Brittany was such a lovely bride to work with, so it was a real pleasure when she agreed to let me blog her big day. Her engagement story is just the best.
So the groom "Kirk" is English, from Middlesbrough but lives in London and Brittany is American, from California and they met by chance (more like destiny) in Las Vegas, NV on May 21, 2016.
In Brittany's words "I was meeting friends there and he was on holiday with his best mate. We met at 4am at an Irish pub called O'Sheas but when our eyes first met it was on the ramp to the bathroom in the Flamingo Hotel (which we now fondly call "the ramp of love." When our eyes met for the first time I knew (we both knew) that my life would never be the same. My whole world flipped right side up when he came into my life, like a fog had lifted and I was seeing clearly for the first time. Next thing I know I was changing my flight to spend another day with Kirk. We maintained our relationship over whatsapp when he went back to London and he came out to California over the following 2 months. We then planned for me to come visit him in London where I decided to stay and we moved into together."
So it wasnt a traditional proposal where the guy gets down on one knee, listen to this:
"Before Christmas Kirk and I had a lot of talks about getting engaged and married. Kirk was looking for a ring for me and I know he was stressed about finding the perfect ring. For Christmas Kirk got me an Alexander McQueen skull ring not as an engagement ring but just as a ring to wear because I love skulls. I loved it! On Boxing Day I slyly moved it to my left ring finger and when he noticed he said, "well that's an interesting place to put your ring." I replied by saying "oh ya will you marry me?" to which he said "hell ya." We started planning the wedding immediately after that. We planned the whole thing together and had the best time doing so.
The lovely couple tied the knot on 21 October 2017 at Wilcox Manorin Tustin, CA. They chose this venue because it was in California near all Brittany's family and friends. Also, they were looking for a beautiful, intimate place that was outdoors and would be a great place for a party. Both the ceremony and reception were held in the manor's back garden. They planned everything from London and had a trip to California to finalize plans. It looks just perfect!!!
Brittany wore a stunning lace gown by Olvi's, her fabulous black and gold studded shoes were from Jeffrey Campbell and of course the headpiece was by moi!!! She chose our Harlow piece which looked amazing on her, a perfect combination!!!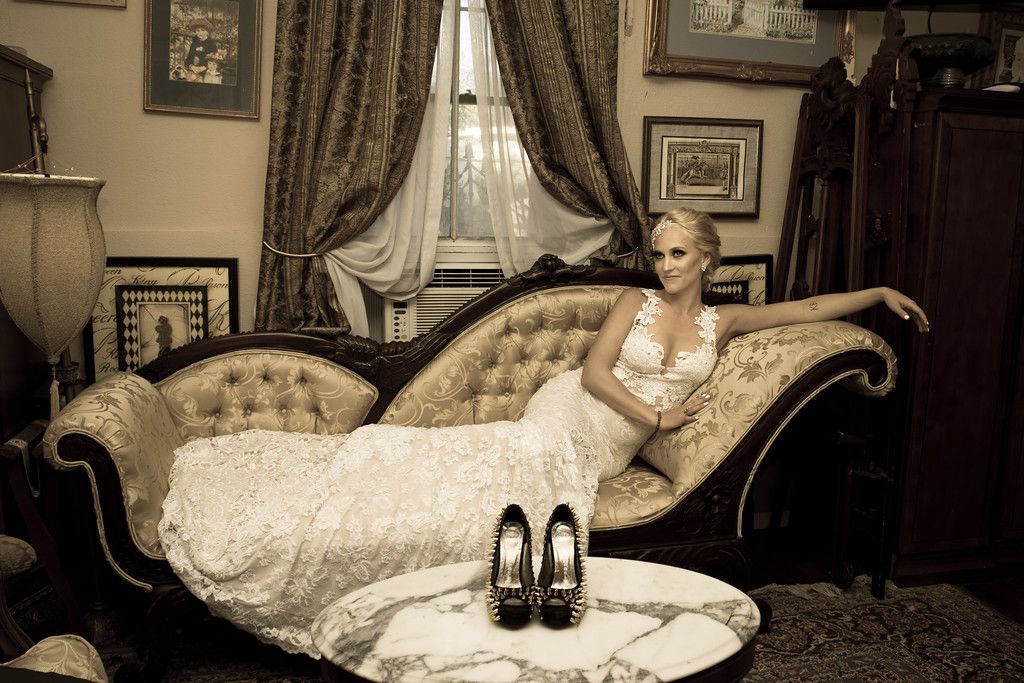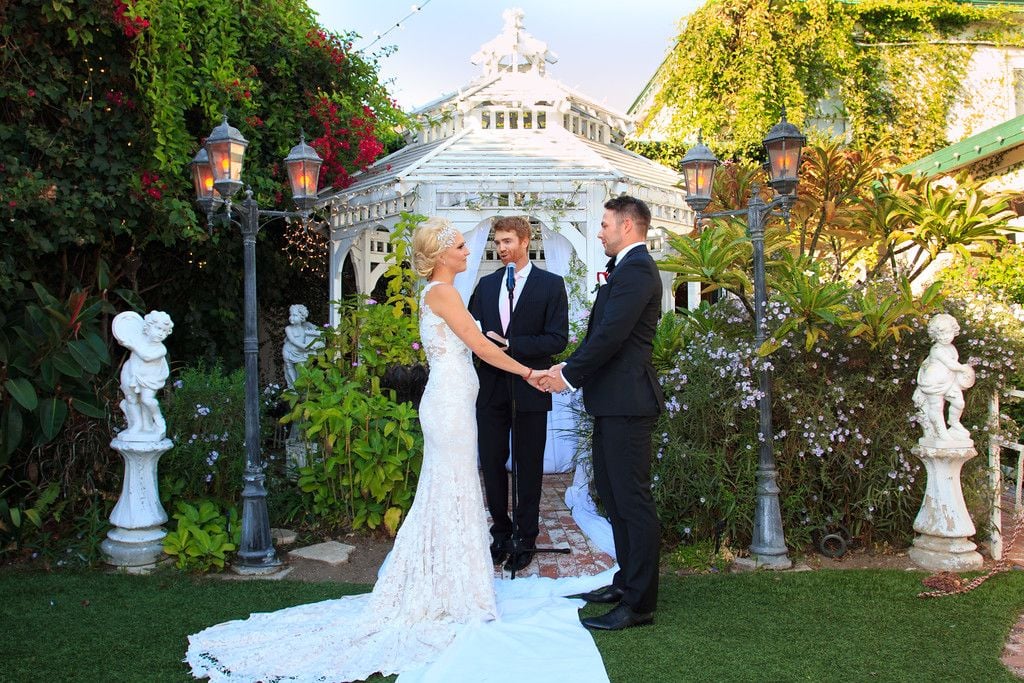 The Groom and Groomsmen wore black suits by Racng Green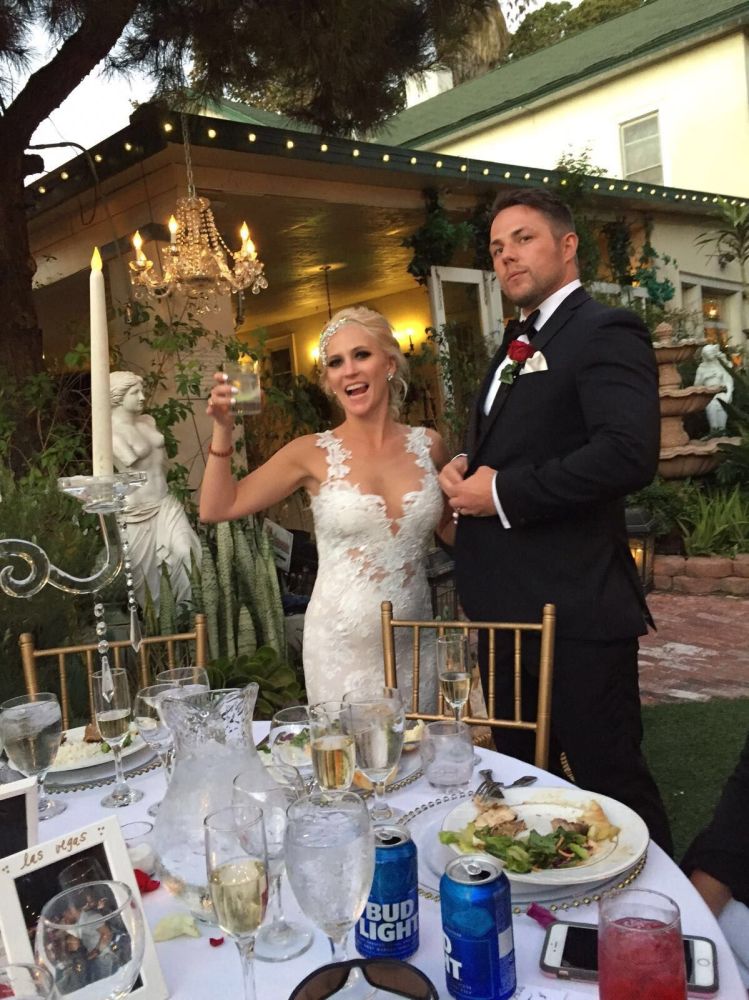 They added a tribute table with a picture of Brittany's late mother, a bottle of Amaretto (her favourite) and a sign asking the guests to give a toast to the mother of the bride. Such a lovely thing to do, it brought teas to my eyes when I read this.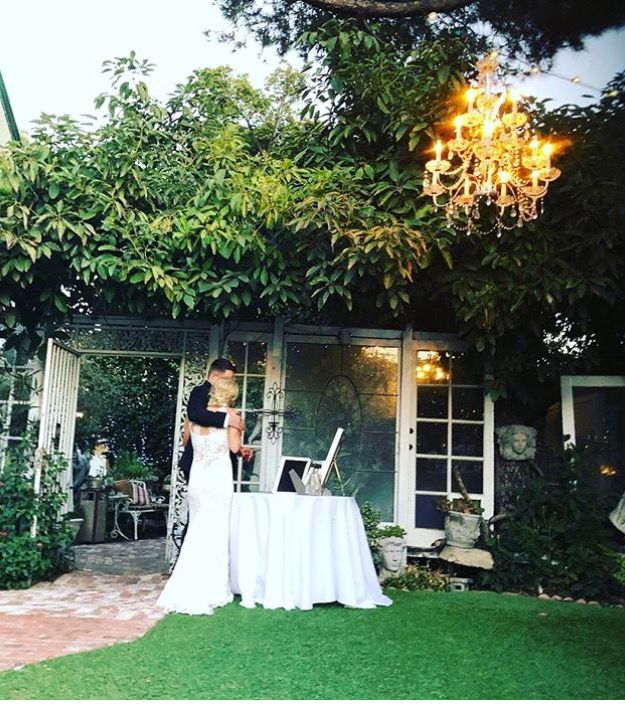 The bridemaids all looked so stylish and sophisticated in their long black evening gowns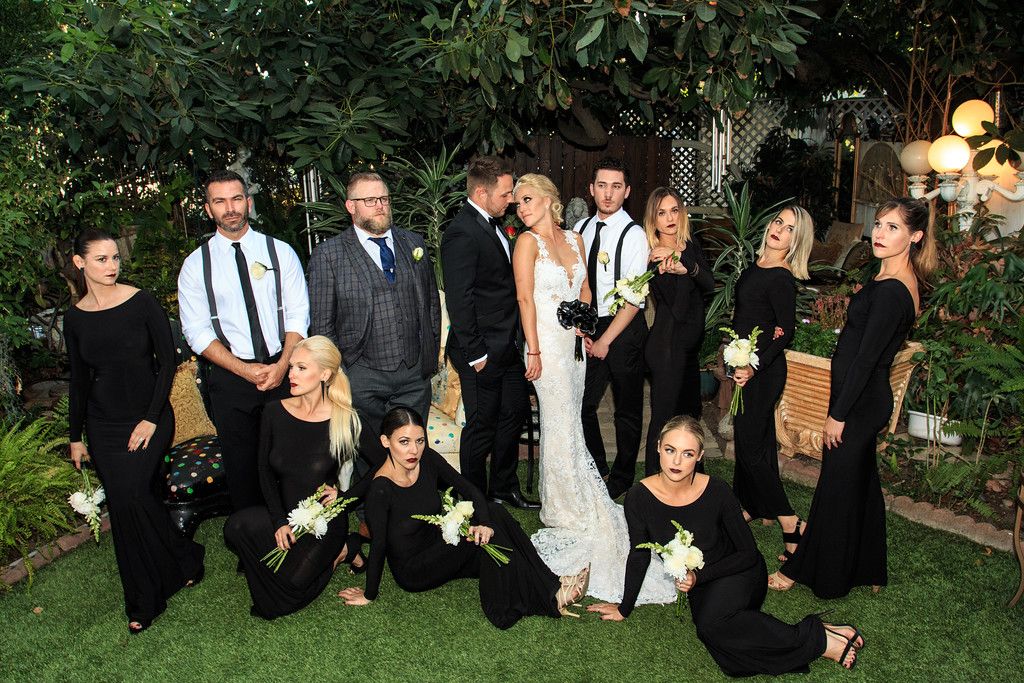 Love these Flamingo biscuits!!!
"We had flamingo cookies to commemorate where we met, our seating chart was a map of the world with all the places we have travelled together, and on each table we had a picture of us in that place."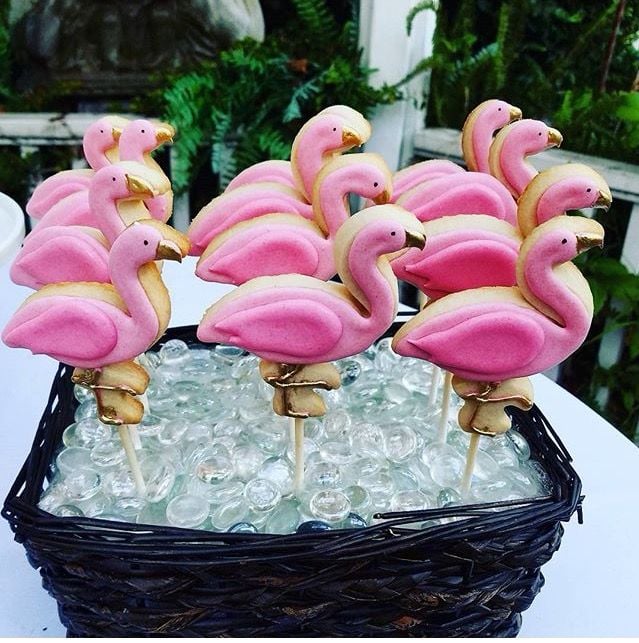 and what an amazing skull cake!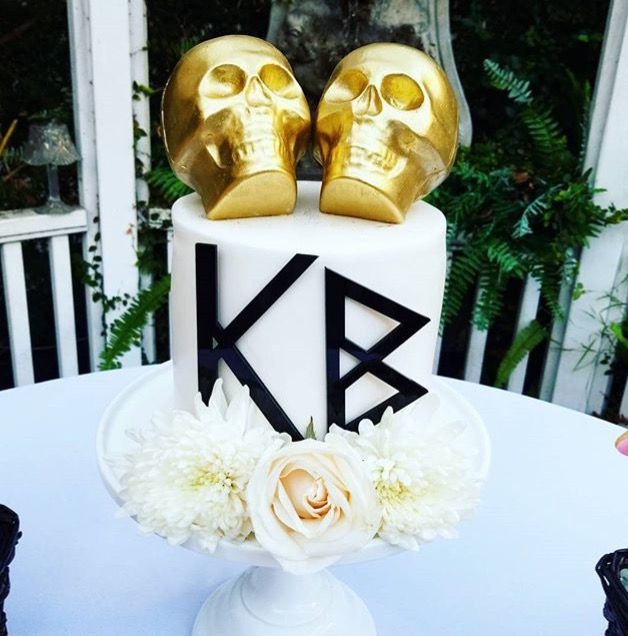 How adorable do these flower girls look, love that they have delicate ballerina style dresses with black boots, so cool!!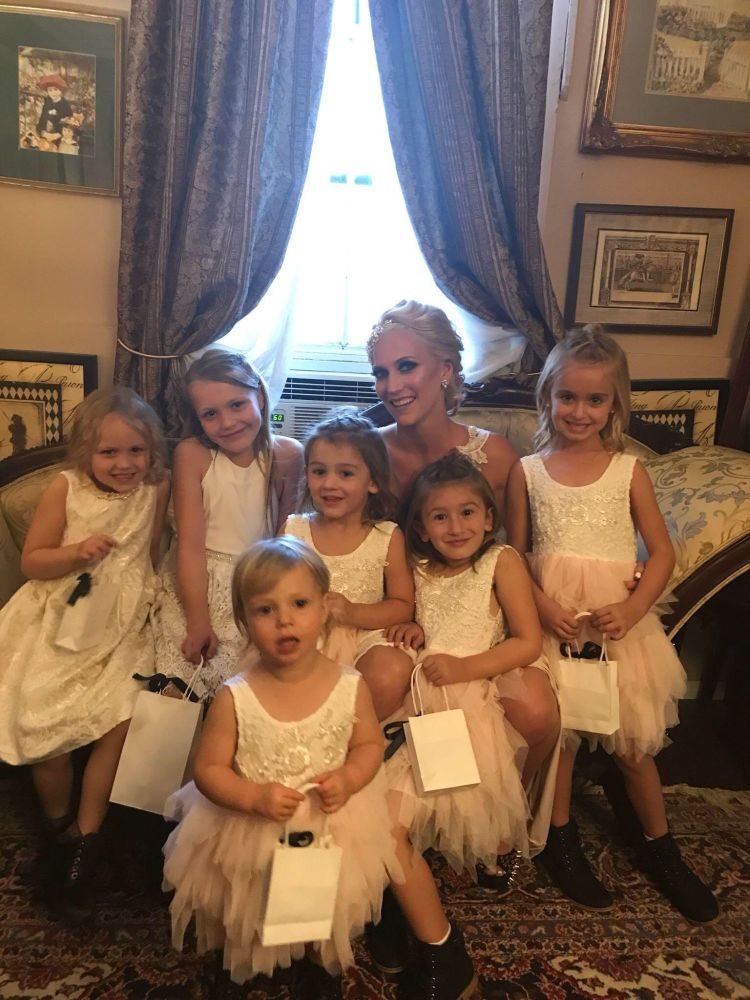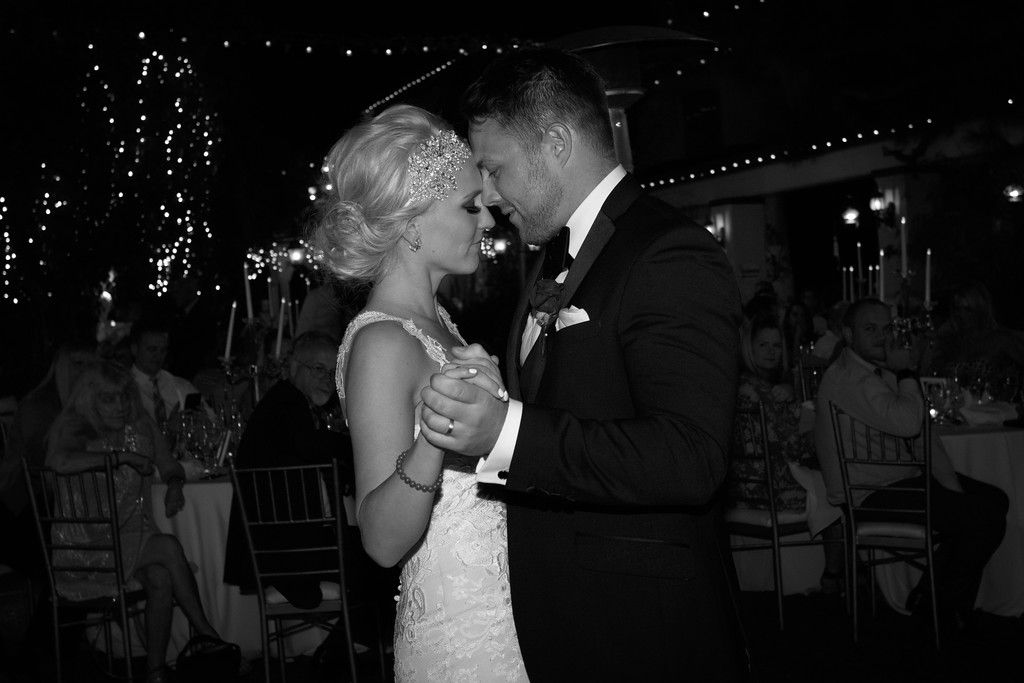 What a beautiful wedding. I hope you liked looking at these pictures and hearing Brittany's story as much as we did and we wish her and Kirk a life full of happiness together.
Jo Xxx
Venue - Wilcox Manor - www.wilcoxmanor.com
Photographer - Nicole Douglas Photography - www.nicoledouglasphotography.com
Wedding gown - Olvi's - www.olvis-lace.com
Wedding headpiece - Jo Barnes www.jobarnesvintage.com
Brides shoes - Jeffrey Campbell - www.jeffreycampbellshoes.com
Wedding Hair - Kat Thompson @Katthompsonhair
Make up - Shanna @thaecallmeraerae